Do you want to have hydrated, soft, aromatised and good-looking hands all the time, no matter how hard you use them and how much you expose them to environmental influence?
Does it sound like an impossible task to have all of the benefits mentioned above?
I have not one but four fantastic solutions regarding the best natural hand cream for dry hands!
I have used all four hand creams for a long time. My husband loves them, too!
I will share with you my experience and the opinion of many other users to decide if any of these creams are worth trying.
These are the products I will review for you today:
These four excellent products have many common attributes. Alternatively, you could consider this constellation as one core product with four variations. 
However, each of those hand creams has its specifics and nuances, making it different and unique.
I will reveal to you what they have in common and their differences so that you can pick the best fit for you.
OK?
Let's start with
What Do These Hand Creams Have Under the Hood? See All Ingredients!
Here comes the excellent news – we can find inside only top-notch natural ingredients, mixed with professionalism and love, that take excellent care of your hands.
Typically, they blend vegetable and essential oils, plant extracts and vitamins. Your hands deserve the best substances you can find in nature, right?
Please don't count on my words. Look for yourself!
To be better informed, I will show you the list of ingredients for each product and shortly explain what each compound does for your skin. 
When we have an ingredient that participates in more than one hand cream recipe, then the description of this ingredient will be given only once so that we don't repeat the same information repeatedly.
What's missing in the list of ingredients?
All four hand creams do not harm you or the environment. They are 100% natural products without chemicals or any other manmade ingredients, such as:
PARABENS – Parabens are the most widely used preservatives in cosmetic products – their function is to stop bacteria, fungi, and other microbes from growing. Parabens can be related to hormones, fertility, and even breast cancer.
SULFATES – Sulfates are most commonly used in skincare products to produce bubbles and foam. These chemicals (the most known – sodium lauryl sulfate SLS and sodium laureth sulfate SLES) can cause skin irritations, dry skin, and other skin problems.
PEG (polyethene glycol) – is not a chemical element but a mixture of different compounds. And here comes the most significant problem – the impurities found in various PEG compounds – I will mention Ethylene Oxide, a highly TOXIC GAS.
These are "the bad guys" regarding what a cosmetic product may contain, happily missing in these products.
My Experience with These Hand Creams
I adore all of these hand creams. They are among the best products I have ever used for my hands. 
Each of them has its charm due to the nuances in the formula. I prefer to switch between them to delight in all hand creams' benefits.  
They are a feast of the senses:
The hand cream with argan oil smell is a bit more aromatic at first, like a "nutty" smell. Still, the scent quickly disappears because argan oil absorbs quickly.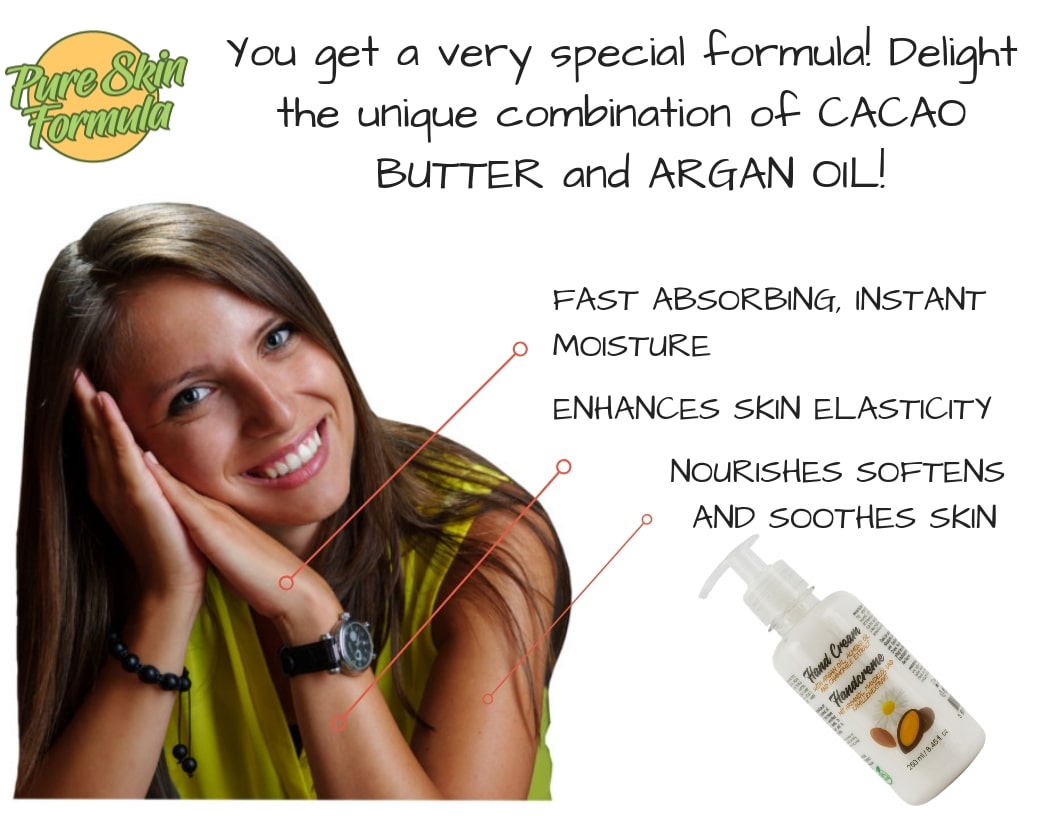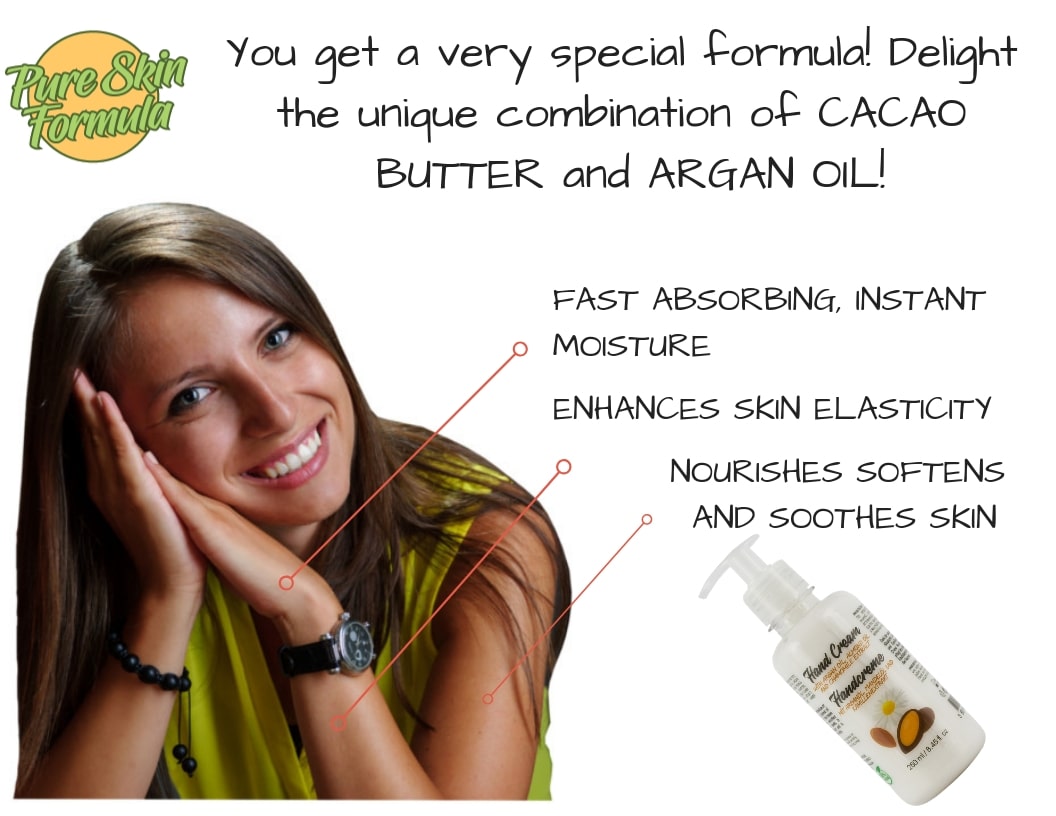 The hand cream with strawberry contains relaxing strawberry, which has an anti-stress and soothing effect on the skin and senses.
The hand cream with rose is a specially designed natural formula enriched with rejuvenating Bulgarian rose oil. Just imagine the divine aroma on your hands!
Last but not least – the "jewellery" in this collection is the hand cream with aloe vera and gold. I don't want to miss this product's mild touch and magnetic flavour. 
The pack:
The products are in a transparent plastic bottle with a pump, which is an easy way to put the Cream on your skin.
You have a whopping 250 ml product in the container, which is a decent quantity. 
This bottle size lasts about three-four months. It depends on how often you use it. During summer it could be more because I use it once a day.
I use it 5 or 6 times a day in the winter months, and I never forget to put on some cream before going to bed. That keeps my skin protected even at night.
The effect on my hands:
The consistency is thick and dense, which helps to be absorbed quickly on my skin.
When I was a kid, I always had problems with my skin. It was dry and awful during the cold period of the year. 
I remember being 7-8 years old and going to school. I was ashamed because I had to hold the pen and show my cracked hands.
Since then, I've visited many dermatologists, but they only said that this is just my skin type and gave me prescriptions for cosmetic and medical products that cost a lot of money and were full of chemicals. 
None of these worked for me.
Fast forward to the present; this hand cream makes me feel more confident because my skin condition is much better. The problem still exists, but my hands look "normal".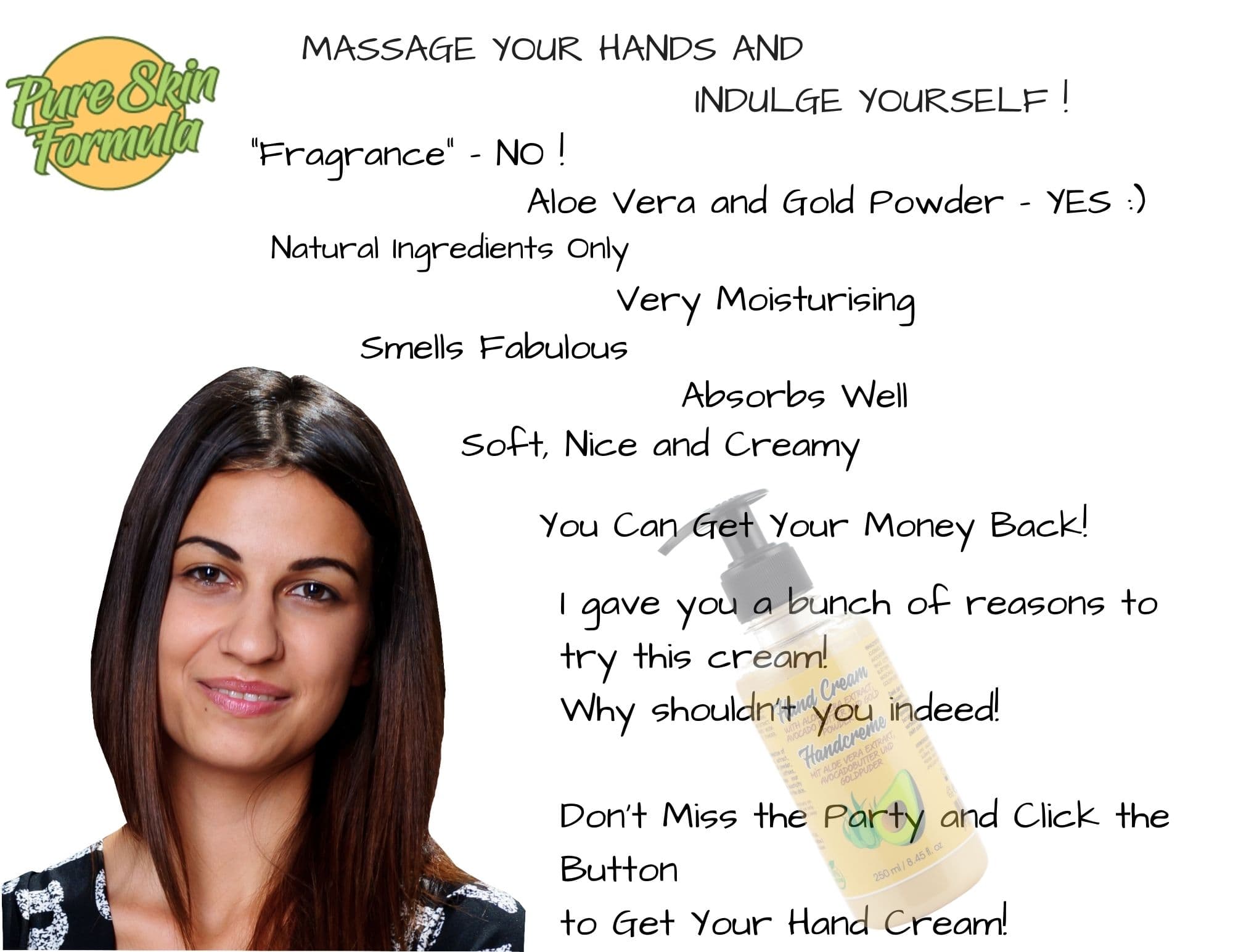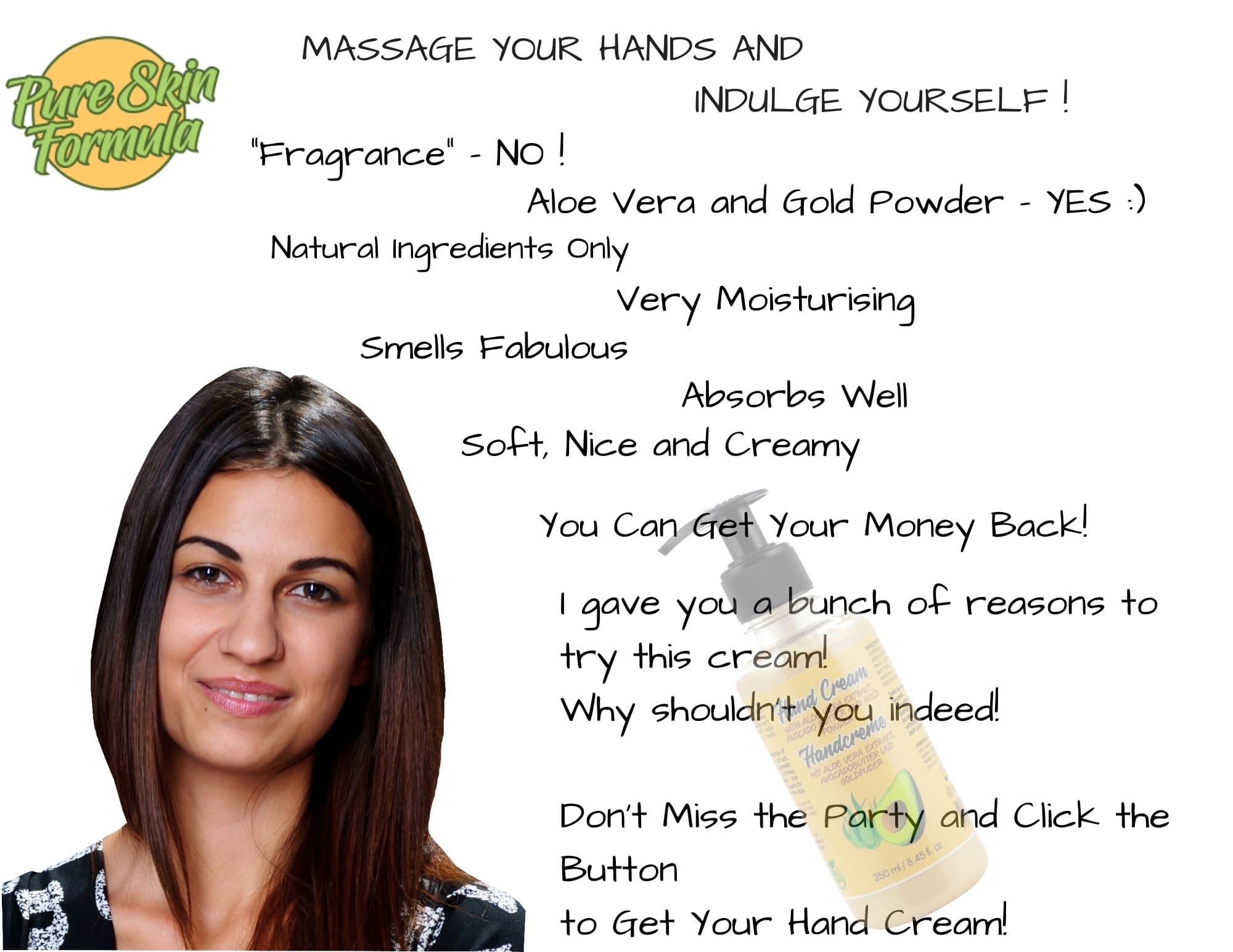 Essential for me is the hydrating function of the products. I feel comfortable being out without gloves because the hand cream makes a protective barrier on my hands.
Another essential advantage to me is the consistency of the Cream – neither too liquid nor too greasy – the perfectly balanced formula.
As I mentioned, it absorbs quickly. The skin feels good, silky soft, and beautiful less than a minute after applying it. 
And when using it for a more extended period, it improves the skin condition.
But the number one advantage is that this product is made of only first-class natural ingredients. Since I've grown older, I have started paying attention to what I put on my skin. 
And as my massagist says – our skin is the biggest organ in our body. So we should be careful about how we treat it.
How to Use
It's the perfect product to keep the skin on your hands soft and hydrated. Sometimes, when I don't have another cream, I use this hand cream to treat my feet too.
Apply a small amount of the Cream on your hands and gently spread it over.
It works just fine on all skin types. Please keep in mind that it works well on dehydrated skin too.
Pros and Cons
Let me summarise the benefits of the products:
– Make the hands supple, and soft and leave no greasy film on the skin;
– Soothe sensitive and reddened skin;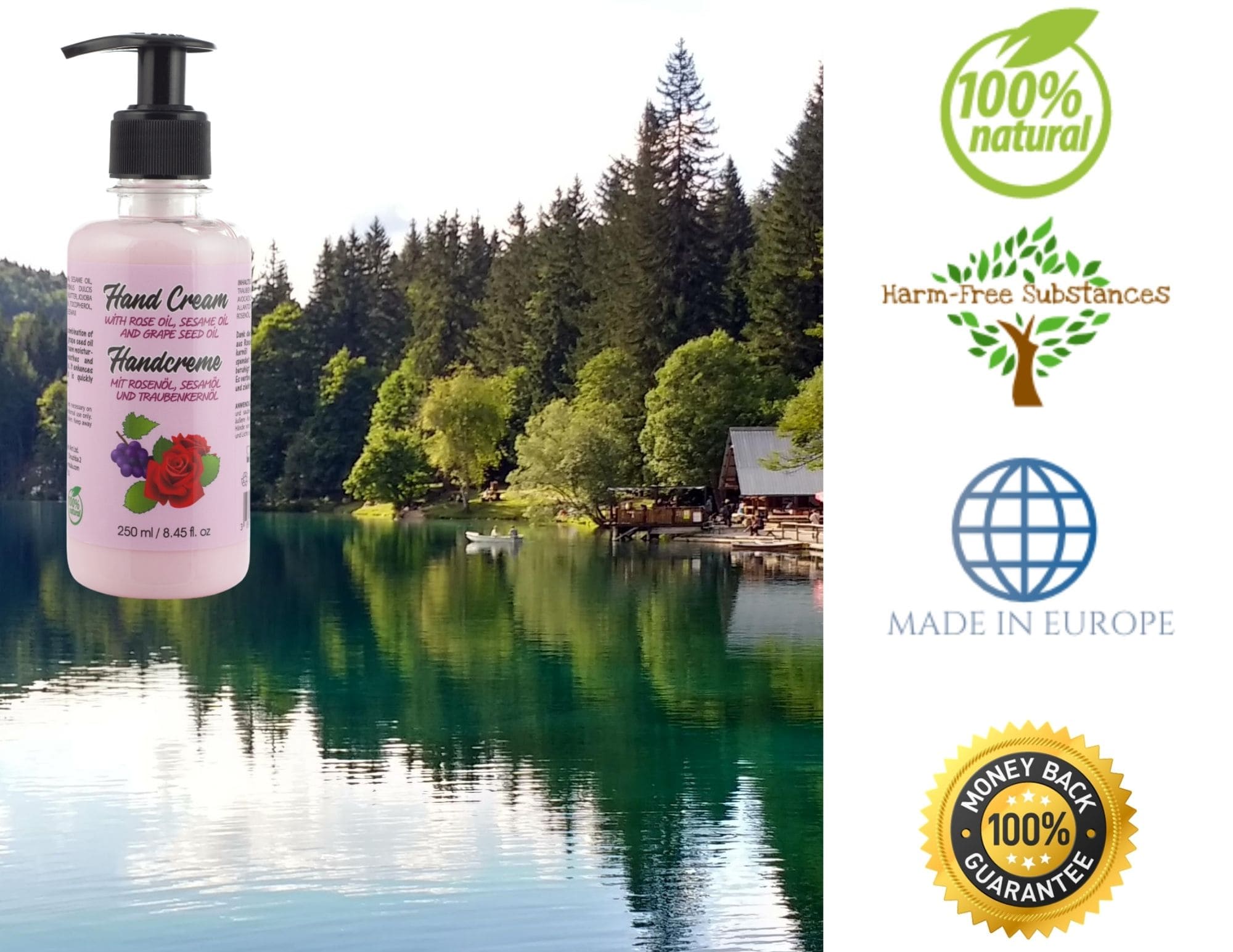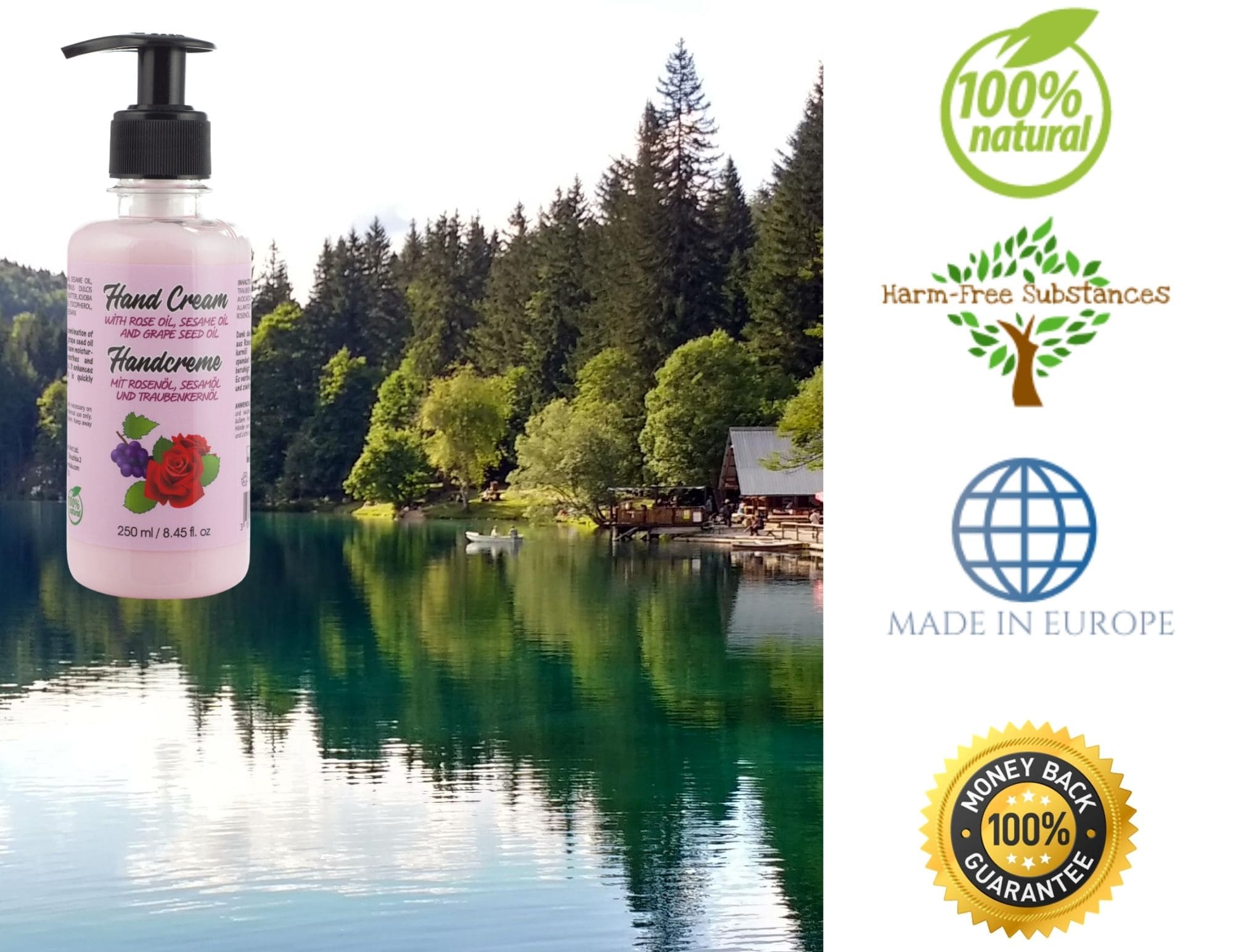 – Work well for chapped hands;
– Come in a practical, convenient dispenser;
– Have lovely fragrance;
– Rich in texture and creamy;
– Nourish the skin, having an almost instant effect;
– Takes a little to sink in;
– Are very suitable when washing your hands frequently;
– Are good value for money;
– Are perfect for a gift;
– Can be used as night creams before going to bed
Cons:
– Some may find the scent a bit stronger than they prefer;
– Sometimes, it may be a bit difficult to reach the cream that lies at the bottom of the container, and you have to unscrew the pump to get the last drop;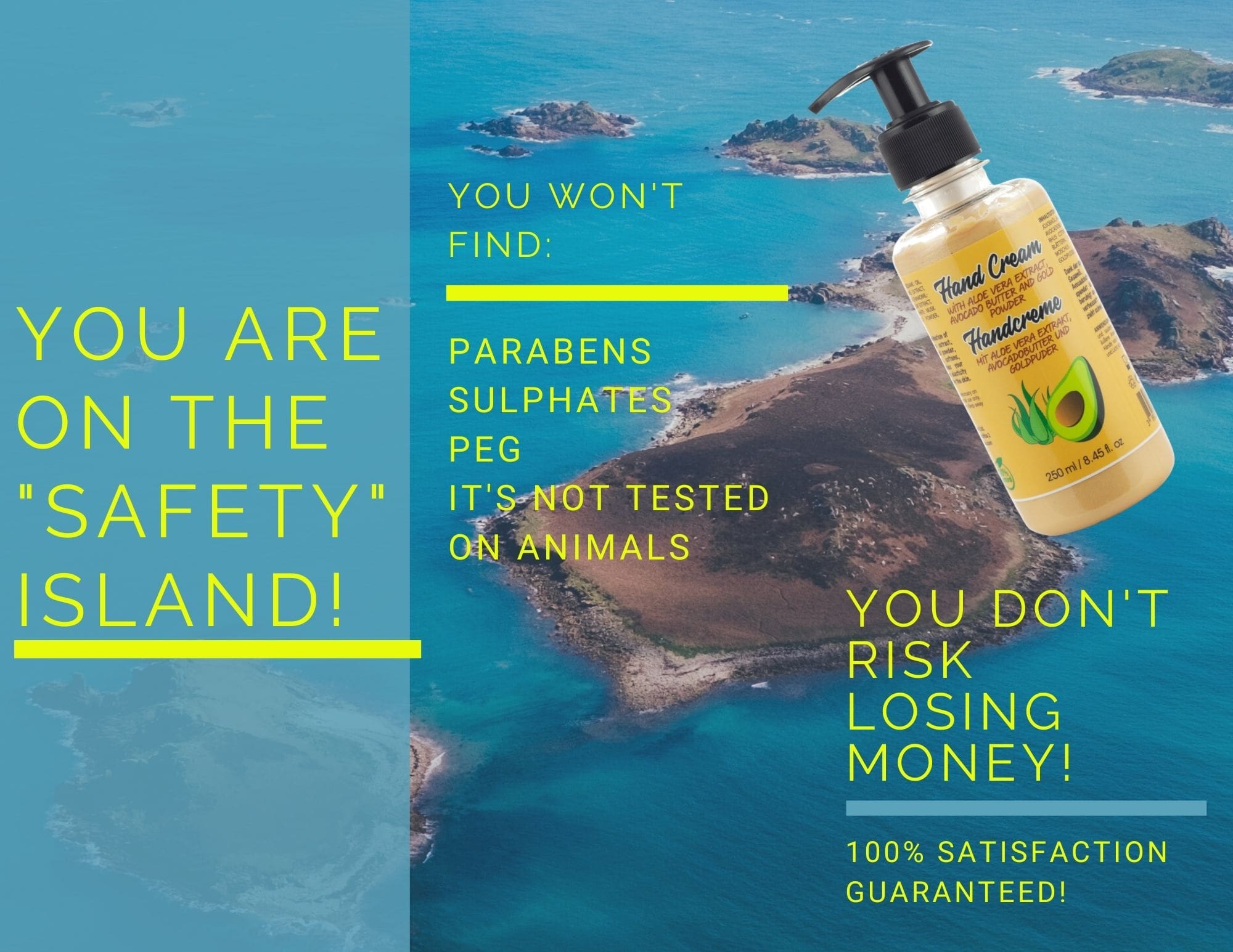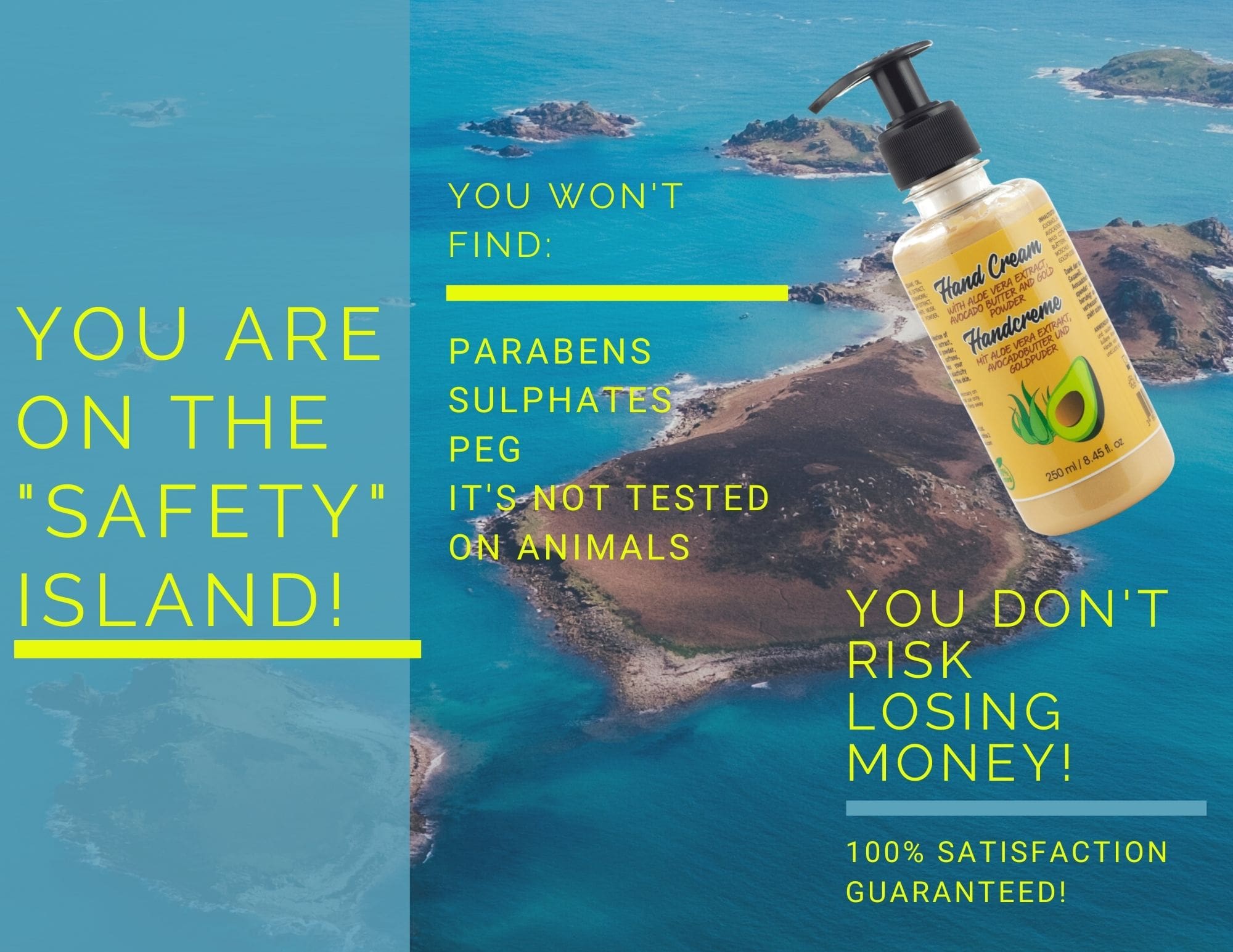 To wrap it up
Well, I hope now you have a ton of info to decide whether to try any of these hand creams.
You know about the ingredients. I have thoroughly shared my first-hand experience with you. You are aware of the main pros and cons of the products.
By the way, you can take an emotional decision or be rational when deciding whether to give it a try! 
Think of hand cream as an investment in your hand care. And in this case, your investment is risk-free. If, for any reason, the product does not satisfy you; you can get your money back.
Now it's your turn to take action!