Hi, there!
Do you want to touch an angel?
It's not as hard as you might think it is! For this purpose, you need to find a magic herb called angelica! I will help you with this, as today I will cover the topic of Angelica root benefits.
The name "angelica" is related to the word "angel." It is not randomly given, as this herb has amazing healing and skin-treating properties.
Now I will share with you the essential information you need to know about
1. What is angelica?
2. What are the main Angelica root benefits?
3. How to use angelica root to be healthy?
What is Angelica?
Angelica is a herb. First – let's clarify the name versions you will meet on the internet, in the literature or on the cosmetic products' labels.
You may very likely find it as angelica archangelica or angelica officinalis. Other name versions are garden angelica, wild celery, Norwegian angelica, or even Holy Ghost! All you have to know is it is the same plant.
It grows in Northern Europe but is cultivated in Central and South European countries like Hungary, Bulgaria, and Romania. Asia is another home of angelica.
The name "archangelica" originates from the Greek word for "archangel." People believed that Archangel Michael was the one to uncover this herb for medical purposes.
One can utilize different parts of angelica – leaves, stem, seeds, and fruit- but this will probably be the root.
Angelica essential oil is another way you can treat your body. It is derived from the seeds and roots of the plant, as they both have similar components.
What are the compounds of angelica?
Cyclopentadecanolide is the reason for the musky flavour of angelica root.
Among the critical components, we can find:
Terpenes. They are the primary compounds of the essential oils of many medicinal plants and flowers.
Valeric acid. It is famous for its sedative, antiseptic, anticonvulsant, and antimigraine properties. It is found in valerian herbs, as well.
Angelic acid. It was first isolated in the nineteenth century, namely from angelica root. It has sedative and tonic properties and helps with nervous problems, fever, colic, heartburn, loss of appetite, gout, and headache.
When we know what angelica is, let's see how it can help you.
What are the main angelica root benefits?
Lab test has proved the herb stimulates the immune system. It protects from harmful bacterial invasion. It relieves pain, but unlike drug analgetics, angelica doesn't impact the brain and has a local anti-inflammatory effect.
Angelica root is beneficial in cold and humid weather when it relieves stiffness and tightness in ankles and muscles. Many people who actively do sports take the herb for muscle fever.
Angelica is so helpful for sharp pain in the back and legs. Combined with ginger, it can relieve neck pain and stiffness.
With angelica root, you can improve the work of your stomach. It supports food digestion and reduces belching, intestinal gas and bloating.
In Chinese culture, ginseng is considered a male tonic, while angelica root is accepted more as its female version. It can support women in their conception and decrease the probability of a miscarriage.
Women can take angelica right before giving birth or to decrease problems in menopause. Intake during pregnancy is not recommended. Angelica is included as an ingredient in anti-ageing natural cosmetics due to slow down adverse effects on the skin.
But though it is considered mainly a "female" herb, men can also benefit from its properties, especially if they experience frequent fatigue, high blood pressure, and high-stress levels.
Angelica can purify the blood and relieve asthma symptoms. Consider it when you have a respiratory infection and flu.
OK. You see, the benefits list is so long! That's why angelica root is accepted as a universal herb, making you feel better overall!
Now I will share with you two recipes you can use at home to improve your condition or prevent health issues.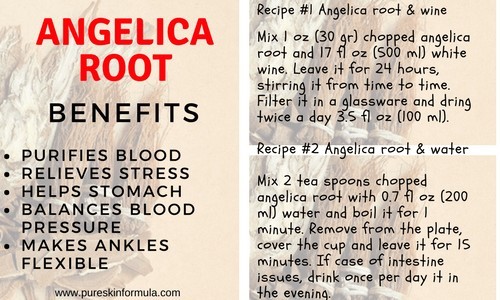 How to use angelica root to be healthy?
Recipe # 1 root & wine
Mix 1 oz (30 gr) chopped angelica root and 17 fl oz (500 ml) white wine. Leave it for 24 hours, stirring it from time to time. Filter it in glassware and drink 3.5 fl oz (100 ml) twice a day.
Recipe # 2 root & water
Mix 2 teaspoons chopped angelica root with 0.7 fl oz (200 ml) water and boil it for 1 minute. Remove from the plate, cover the cup and leave it for 15 minutes. In case of intestine issues, drink once per day in the evening.
Precautions
I have already mentioned pregnant women should avoid it. It is not recommended for people who are likely to get diabetes, as angelica could increase blood sugar.
Use only dried root.
Don't overdose on it, as it might hurt your blood pressure. It is always an option to consult your doctor if you have any doubts about how to include this fantastic herb in your diet.
WATCH this short video devoted to angelica root properties:
Where to find angelica root?
I recommend using only certified products with a proven track record, whether you consume the plant root, as mentioned in the recipes, or get natural cosmetics with angelica essential oil or extract.
There are different approaches to how you can achieve natural skin care and natural hair care. You have to know some basic rules.
By the way, burdock root is another fantastic plant you can utilize.
Conclusion
I have two goals with this text:
To give you the fundamental knowledge about angelica herb as a whole and individually its root.
To make you consider it in your health and beauty kit, as it is pretty good to underestimate it!
Find the best way to use angelica and TAKE ACTION!
I would love to hear from you! What herbs do you use or have you heard are suitable to apply? Leave me a comment, and I will answer you!
To your "angelica" future,
Valeria