Hi, there!
Maybe you know how fantastic rose oil properties are for your skin and hair? If you still have any doubts, read HERE about rose essential oil skin benefits and recipes. How to use rose oil for hair, plus a few recipes, you can learn HERE.
OK, rose oil fans! To use this tool, even more, your next step is to learn a rose soap recipe! So today I will share with you how to make rose soap at home. Let's start!
What do you need as equipment?
Before the start, you would better be sure you have the following utensils: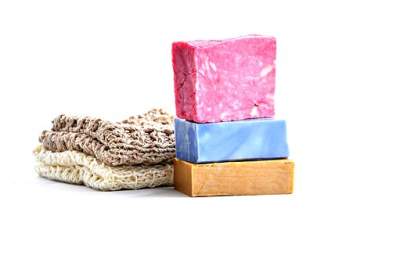 Stainless steel pot – you will use it to prepare the soap;
Whisk, but most probably you will want to use a hand blender – you will need to stir the mixture;
Rubber gloves – when you work with lye, you need to be protected. In case, you are more precautious, you can wear a mask to cover your mouth and goggles to protect your eyes.
Soap molds – you will need to pour the blend and wait for the soap to harden and get ready.
Any plastic or metal containers you have at home will work well. Make sure you will not go to use them to keep food there in the future.
What is important is to work slowly, to watch out, and to use gloves and goggles, if you are not experienced.
In fact, soapmaking process is a chemical reaction occurring between lye (caustic soda), water and essential oils.
Are you okay with the above list and precautions? Let's move to the next step.
Rose cold process soap recipe
You will need the following ingredients:
50 fl oz (1.5 l) cocoa butter
7 oz (200 gr) lye (caustic soda)
16 fl oz (500 ml) cold water
1.7 fl oz (50 ml) rose oil
1 teaspoon sugar (optional)
0.7 oz (20 gr) beeswax (optional)
Preparation guidelines in 6 steps
Step #1  First, you have to neutralize the lye. Pour the water into the stainless steel pot. Carefully add the lye and stir well, always in one direction. It is imperative that you add lye to water (never do the opposite).
Step #2  This chemical reaction will emit heat. Leave the solution to cool down (ideally 95 degrees Fahrenheit/35 degrees Celsius). While waiting, in another pot melt the cocoa butter.
The temperature of the butter should be similar to the lye & water solution. Add the sugar, dissolved in little water.
It will increase the lather intensity, but it is up to you whether you want to add this substep in the process. The same is valid for beeswax.
Step #3 Start slowly pouring the cocoa butter into the pot with water and lye. Begin stirring. You can do it by hand, but take a lot of effort and time.
Step #4 To avoid these complications, you will want to use a hand blender. It will take you 15-20 minutes, until you reach a homogeneous thick (like pudding) blend, as you have to see a trace on the surface.
Step #5  Add the rose oil and stir the mixture to spread the essential oil equally.
Step #6   Pour the mixture into the mold (could be more than one) you have prepared for the case. Cover it and leave for 2-3 days. Then, take the hard soap substance out of the mold. Cut it into small pieces.
Store in cool and dry place for a few weeks, until it is completely dry. Make a visual check. In 3-4 weeks you should not see moisture on the bars.
Voila! Your rose oil soap recipe is done, and you have your soap ready to use!
Strengthening  the recipe
You can reinforce in two directions the rose presence in the method. They are independent, and you could use either both or just one of them.
First, you can include rose flower petals in the mixture. Just pick up some rose petals, shred them and add them when stirring the mixture.
Second, you could use rose water in the recipe, instead of clean water. And the good news is you can produce homemade rose water.
Follow this easy recipe:
16 fl oz (500 ml) water in a pot.
Remove the pot from the fire and add rose petals (the quantity is up to you, there is no strict rule).
The more time you keep the petals in the water, the more saturated rose water you will have as a result. You can control the process, but removing the leaves from the water.
Keep the rose water in cool place, and when the time comes to make your soap, just use rose water, instead of clean water. If you want to use some quantity for cosmetic purposes, just boil more water:)
Watch this quick video with an alternative recipe how to prepare rose water at home:
Conclusion
Well, now you have your rose soap recipe how to make rose scented soap! Try to experiment at home!
Of course, you can always choose professional, high-quality solutions for skin care and hair care.
No matter what methods you use, TAKE ACTION, be natural and responsible for your beauty and health!


I would love to hear from you! Do you (plan) making a homemade rose oil soap? Leave me a comment, and I will answer you!
To your successful rose oil soapmaking,
Valeria