Hi, there!
Do you use sesame oil for your skin? If not, you are dead wrong, as you are missing a lot, depriving your skin of a natural treasure! If you have any doubts about this, read here about the numerous properties of sesame oil.
In a moment, I will highlight the most critical sesame oil benefits for you, but today we will delve into a topic, which explains how sesame oil reacts with your skin.
You will learn the answer to an essential question: is sesame oil comedogenic, and how this fact will determine your usage of sesame oil for massage, and other purposes?
Why should you use sesame oil?
I will give you a few arguments, why avoiding sesame oil would be a mistake:
1. It is a vegetable oil, derived from sesame seeds, and used from ancient times.
Just think about it – would it be so prevalent throughout the ages, if it wasn't precious?
2. It is full of fatty acids (like oleic and linoleic acid). Your body needs them, to survive. They oppose free radicals, and have anti-aging properties.
3. It is rich in minerals (like copper, calcium, and magnesium). Thus your bones remain healthy, and you help yourself avoiding osteoporosis.
4. Vitamines (like vitamins E and K) are part of its formula, as well. Did you know, that you need vitamin E which helps your blood get clogged?
5. It detoxifies the skin, holding the moisture within the skin cells, and is a natural sunscreen, keeping the UV sunlight away.
6. It is suitable for skin wounds, cuts, and cracked heels.
7. It is one of a kind massage oil, perfect for aromatherapy.
You can apply sesame oil only, or even better, blend it with other carrier and essential oils. Such blends decrease the stress and pressure, refresh and strengthen the body, rejuvenate you, calm your emotions down, make you feel better!
All these oils are absorbed through your skin and cause positive physiological changes.
Just imagine – you are tired, in a bad mood, and upset. Instead of drinking headache pills, or worrying about negative thoughts, you (and your partner), are doing a great massage, that tames the negative talk in your mind!
And sesame oil plays a central role there.
Okay, now you know why you should include sesame oil for your skin care solutions. But let's get back to the other core topic today:
Is sesame oil comedogenic?
To answer this question, let's first see what does this mean? The term "comedogenic" comes from the word "comedo," According to Merriam-Webster Dictionary, it means
a small bump or blemish on the skin (as of the face or back) usually containing a plug of sebum in a skin pore: such as open comedo (blackhead) or closed comedo (whitehead).
These comedos, or pimples, are caused by clogged pores. The pores are those tiny holes in our skin. Sometimes we can see them scrutinizing our skin.
What's the role of pores? They are the home of the hair follicles. When the body produces more sebum than needed, combined with the dead cells on the skin surface, it can clog the pores.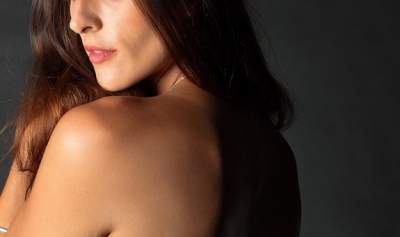 This is how we get these unpleasant pimples, called blackheads or whiteheads.
Here comes the question, whether some carrier oils can facilitate the process of clogging pores? What about sesame oil?
To clarify that matter, the skin experts have created a so-called comedogenic index.
It is, in fact, a 6 point scale, where the lower the index, the lower is the probability that oil is comedogenic. Here is the meaning of the range:
0 – Not likely to clog pores
1 – Low
2 – Moderately Low
3 – Moderate
4 – Fairly High
5 – High
What is the comedogenic index of sesame oil?
Sesame oil is indexed as moderately low comedogenic. It is in one group with oils, like avocado oil, grape seed oil, and olive oil.
All they are proven and amazing "allies" of your skin. Index 2 means, that sesame oil is with low ability and tendency to clog your pores.
Sesame oil has another beautiful property: the skin very well absorbs it. The result? You don't feel you are greasy, which is another thumbs up for using it as a massage oil.
To wrap it up
Use sesame oil with pleasure, irrespective if you treat acne, cracked feet, skin burn, protect your self from the sun, or give yourself, and your partner a massage. It is in right relationship with your skin, and you should not worry about its comedogenicity level.
Mixed with other oils, and compounds, it will bring you to the next level of experience. You can find on the market proven natural cosmetic formulas, including sesame oil.
Your next step? Search and test products, which work well for your skin. Now you are familiar with one more instrument to treat yourself in the best possible way!
I would love to hear from you! Do you (plan to) use sesame oil? Leave me a message, and I will answer you!
Take action and take care:)
Valeria