[clear]
Hi, there!
Let me first answer the question is avocado oil good for skin? No! It is not just good; it is fantastic for your skin! It has so many properties, as I am impatient to tell you about them in the next lines!
By the way, avocado is a fascinating creature of nature:) Technically it is a fruit, but it is not a typical one. I adore adding it to a salad, avocado has a neutral taste, and it enhances the core ingredients. If you haven't tried it, do it!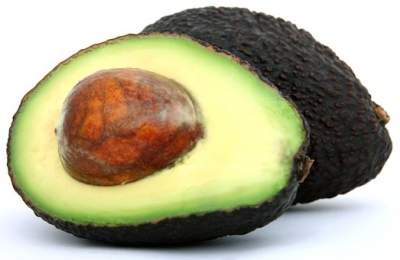 But my point, today is to present avocado (oil) as a magical cosmetic compound, which will cause a fantastic effect on your skin. Read here to understand
What is avocado nutrition value?
What are avocado oil benefits for skin, and how we could live healthier, thanks to this oil?
How to use avocado oil for good skin?
How rich in valuable components is avocado oil?
It is very rich! If you don't believe me, believe Wikipedia:) Let's decipher which are the components that could bring the most value to your skin!
Avocado oil is high in monounsaturated fats, specifically oleic acid. What does this mean? Oleic acid is omega-9 fatty acid. Just to get an idea, you can also find it in other amazing oils, like olive oil, peanut oil, grape seed oil, sunflower oil, sesame oil.
Oleic acid is your ally in decreasing bad (LDL) cholesterol, and increase good (HDL) cholesterol. It also accelerates the regeneration of cells.
You can reduce and balance your blood pressure, using oleic acid-rich avocado oil.
Another essential compound of avocado oil is vitamin E. It has so many benefits that deserve a separate article. I will scratch the surface, mentioning its anti-oxidant, anti-aging, anti-cancer, anti-dementia properties. Unbelievable, isn't it!
Avocado oil contains a small quantity of polyunsaturated fatty linoleic acid. It is omega-6 acid, which is another powerful "ally" in our battle for being healthy and full of energy.
Do you know how much trans fats does avocado oil contains? A big fat ZERO!
Benefits of avocado oil for skin
A good to know fact is avocado oil is derived from the pulp of the avocado fruit, not from its seed! But a MUST know is the following information.
Avocado oil tightens skin and stimulates collagen production, which improves skin elasticity and has an anti-aging effect. It opposes arthritis, as well.
Avocado oil naturally protects skin against UV rays. It is beneficial in the summer, especially for kids. Anyone can use it, but It is suitable for dry, damaged skin. It prevents skin cancer.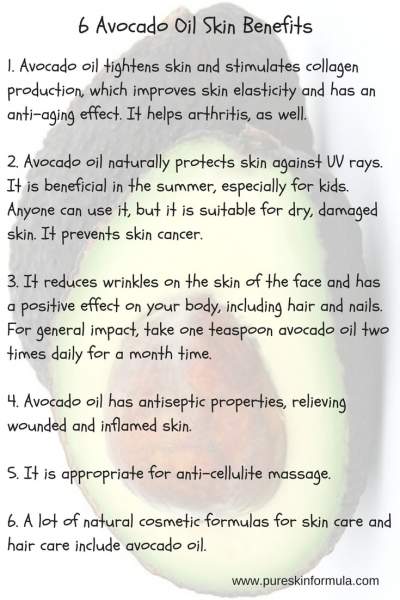 It reduces wrinkles on the skin of the face and has a positive effect on your body, including hair and nails. For general impact, take one teaspoon avocado oil two times daily for a month time.
Avocado oil has antiseptic properties, revealing wounded and inflamed skin.
It is appropriate for anti-cellulite massage.
Okay! Let's see how you could benefit from all this natural wealth!
How to use avocado oil for good skin?
Let's start with a few recipes that you could quickly prepare at home.
Mask # 1 For dry or damaged from the Sun skin
You will need 1 peeled ripe avocado, 1 tablespoon avocado oil.
Mash the avocado and mix it with the oil. Apply on face and neck. Leave for 10 minutes and wash with fresh water.
If you have oily skin, you can add to the blend 3 tablespoons lemon juice.
Mask # 2 Cleansing face milk
You will need 80 ml (2.7 fl oz) warm rose water, 25 ml (0.8 fl oz) almond oil, 25 ml (0.8 fl oz) avocado oil, 15 gr (0.5 oz) milk powder, 1 tablespoon honey.
Mix the ingredients, and leave in the fridge in a non-metal container. Clean in the mornings and evenings with a cotton pad.
Mask # 3 For aging spots
You will need 2 tablespoons avocado oil and 2 tablespoons castor oil.
Mix the ingredients, and massage the spots. Leave for 15 minutes, and rinse with warm water.
Mask # 4 For face wrinkles
You will need 1 tablespoon avocado oil, and 2 drops neroli oil.
Mix the ingredients and massage your face. Leave for half an hour and wash with fresh water. You can do it twice a day, when possible.
Mask # 5 For face nourishing
You will need Half peeled ripe avocado, 1 tablespoon fine wheat bran, 1 tablespoon yogurt.
Mash the avocado and mix all ingredients. Apply to your face for 20 minutes. Rinse with cool water.
If your skin is too dry, you can use avocado alone, and skip wheat bran and yogurt.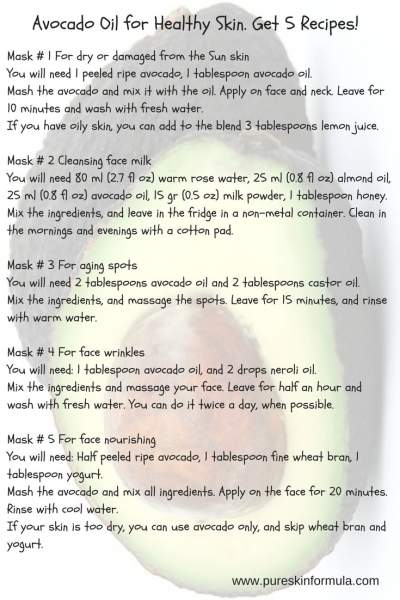 Avocado oil side effects
If you don't consume it excessively, serious side effects of avocado oil are practically missing.
Still, there might be a chance that you are allergic to avocado, or latex allergic. If this is your case, you have to avoid it.
If you are a pregnant or breastfeeding woman, you might restrain from consuming avocado oil.
To be on the safe side, you can always consult with your doctor, before consuming this excellent fruit.
Avocado oil in natural skin care products
The valuable properties of avocado oil turned it into one of the most fundamental ingredients in many natural cosmetic products (from soaps to creams).
When used cleverly, ready professional formula with avocado oil could make a substantial positive impact on your skin, being healthier, and smoother.
If you take care of your skin, one day this will pay off, believe me!
Watch this quick video how to use avocado oil for skin:
Key takeaway?
Well, I hope you don't have to ask yourself anymore is avocado oil good for skin, because you already know the answer! But most importantly, you know why it is so valuable!
If you have to take one or two core messages about avocado oil benefits, I will bet on "oleic acid" and "vitamin E" Not only these two compounds are essential for avocado oil properties, but they submit a lot of advantages for your skin.
Last, but not least, you've just learned a few tips how to use avocado oil in both homemade recipes and ready formulas.
Whatever approach you prefer, my advice to you is to TAKE ACTION! It would be a crime to miss avocado oil in your skincare strategies. Experiment, find the best solution for you and enjoy:)
I would love to hear from you! Do you (plan to) use avocado oil for your skin? Leave me a comment, and I will answer you!
To your "avocado" skin!
Valeria