Hi, there!
Lips are susceptible, but do you know why? There are millions of nerve endings around lips, while they are not protected, but exposed to environmental influence.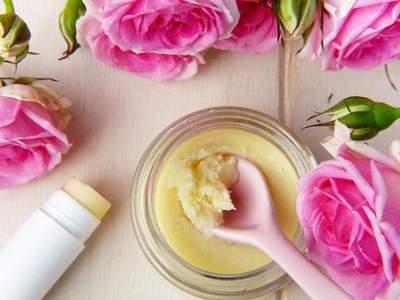 The reason lips get dried so fast, is they lack sweat glands.
To avoid dehydration of your lips, you could apply homemade lip balm recipes with beeswax.
You don't need to have chapped lips to take care of them.
Whether it is cold weather and wind in the winter, or you have substantial exposure to the Sun and seawater in the Summer, you have to protect, soothe and nourish your lips throughout the whole year.
Why beeswax?
Beeswax is an essential component of lip balm. The reason is in the considerable beeswax benefits. Bees produce it, when they build their honeycomb, to protect honey from "intruders."
Ancient people have uncovered the positive effect for skin when using beeswax. Nowadays beeswax consumption is increasing each year because more and more individuals pay attention to their skin care and hair care.
They get back to natural ingredients, and solutions and products. Many natural cosmetic products include beeswax in their formulas.
Beeswax benefits
Beeswax is rich in omega-7 and omega-9 unsaturated fatty acids, their esters, vitamin A, and hydrocarbons. This leads to the following positive effects for you:
Immune system stimulation;
Skin and lips hydration;
Anti-bacterial, anti-inflammatory effect;
Analgetic properties;
Doesn't clog pores;
Detoxifying cells;
The good news is you can easily utilize the beeswax properties, including in homemade lip care solutions.
For that purpose, you can mix it with other valuable ingredients, like carrier oils and essential oils.
Let's see which basic rules it is good following, to have robust natural protection for your lips.
What ingredients to use for a homemade lip balm?
You already know beeswax is almost mandatory compound:) But you can add ingredients, like:
Hard carrier oil/butter(like coconut oil);
Liquid carrier oil (like almond oil, or avocado oil);
Essential oil;
Vitamin E.
You can store the lip balm in a small plastic or metal container.
Here are a few useful rules of thumb, you could follow, when preparing your homemade lip balm.
1. Solid oil/butter is heavier than the liquid one. If you use predominantly solid oil, you could add less quantity, vs. liquid oil.
2. Following a ratio of three parts carrier oil and one part beeswax is a good starting point;
3. Essential oil is a concentrated form of extract. Be careful not overusing it. As a rule, two-three drops per dose are usually enough to get the aroma and sensation aimed.
4. Typically, in the winter you might want a more dense mixture, than in the summer. You can always regulate the density, by adding more beeswax, if you want to increase it.
5. Vitamin E is not a must but will help nourish the delicate lip skin. A few drops per doze is fine.
6. As a consequence, you would first melt the beeswax down and add the carrier oils, until reaching homogeneous mixture. Finally, you would add essential oil and vitamin E, stirring well.
7. You can use any container you have at home. It could be your empty face cream container, you kept by chance, or for the purpose:)  Make sure it is clean and dry. Don't close the lid, before the mixture solidifies.
8. Typically, the expiration period of your lip balm will be about 1 year.
9. You can always experiment with flavors, ingredients, and quantities. Follow the core rules, and you will happy with the result.
Now, let's see some recipes as a "starter":)
Homemade beeswax lip balm recipes
Your next step to produce the desired lip balm will be mixing all components in the right ratio.
Read below a few ways how to do this. All of them are very quick and easy DIY solutions.
Recipe #1 With almond oil
You need 1 teaspoon beeswax, 1 teaspoon honey, 2 teaspoons almond oil.
Heat up the beeswax until it melts in a double boiler (or any other melting method you use).
Do not expose beeswax directly to fire, use steam or hot water instead. Add the other ingredients, and reach a homogeneous mixture.
Pour the liquid into a container, and leave it at room temperature, until the balm solidifies.
Recipe #2 With rose water
You need 1 teaspoon beeswax, 2 teaspoons coconut oil, 3 drops rose water.
Melt the beeswax and mix with the other ingredients. Pour the liquid into a container, and leave it at room temperature, until the balm solidifies.
Recipe #3 With shea butter
You need 2 teaspoons beeswax, 1 teaspoon shea butter, 3 teaspoons coconut oil, 3 drops essential oil (lavender, peppermint or your favorite one), 2 drops vitamin E.
Melt and mix beeswax, shea butter, and coconut oil. Finally add essential oil and vitamin E. Pour the liquid into a container, and leave it at room temperature until the balm solidifies.
Conclusion
Well, you are already familiar with 3 homemade lip balm recipes with beeswax, and 11 general rules how to prepare lip balm at home. It's not that hard, isn't it:)
It needs a bit extra effort to buy the ingredients and to develop the beeswax recipe at home, but in the end, the aim is worth it- you will have your lips protected.
Apart from the DIY approach, you can always purchase lip balm. I recommend exploring natural cosmetic products, which will take the best of two worlds – using natural ingredients, and professional knowledge, how to combine them most appropriately.
I've shared with you tips how to search and find qualitative natural cosmetic products, avoiding scams and improper statements from sellers.
Whatever approach you use, the most important is to TAKE ACTION. Experiment, find the best solution for you, and apply it! Who doesn't want well-looking and healthy lips:)
I would love to hear from you! Do you (plan to) to use beeswax lip balm? Leave me a comment, and I will answer you!
To your fantastic lips:)
Valeria