Hi, there!
Have you tried fresh ginger root? I use it regularly, and to be honest, I don't like the hot taste very much!
Anticipating the question of why do I consume it, I will put it simply: because ginger root health benefits are so essential that it would be silly to miss such an opportunity!
In just a few minutes, you will know: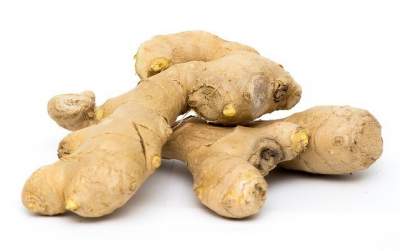 1. What is ginger root?
2. What are ginger root benefits for men and women?
3. Recipes how to use ginger root for hair, body, and skin.
We have a lot to cover, so let's start.
What is ginger root?
Ginger is a fascinating plant! Some people make ginger beer; others use it for fragrance in soaps and cosmetics. A third group uses it as a cure!
Even if you have never used ginger, you most probably have seen it in the store – a strangely shaped herb that looks a bit ugly and is very hard to depict. But the real value is hidden "below the surface":) Let's see what is in there?
Nutrition facts
At first sight, ginger root was nothing special. When I saw it for the first time, I wasn't impressed by the nutrition table, unlike the effect that spirulina or angelica root components had on me.
Don't get me wrong. Ginger root is full of "gems," like Calcium, Phosphorous, Potassium, Magnesium, diet fibers, vitamin B, and C. But still nothing exceptional. We have seen these components in many plants.
Regarding the spicy effect, ginger owes it to a substance called zingerone. But don't get scared! It is a thousand times weaker than those "killing" chilly peppers we know!
Apparently, the reason why ginger root is so valuable is "hidden" in the unique "teamwork" of all compounds, which are combined in a way to deliver maximum positive effect to our body! And the result is astonishing, as you will read in the next lines!
What are ginger health benefits?
They are so many that I wonder where to start from:) Maybe I have to mention that many centuries ago, the Ancient Greeks and Romans used
Ginger against sea sickness!
If you feel uncomfortable, while sailing, you could try it to relieve your symptoms!
Anti-cancer effect
Experiments with mice have shown that ginger root has some anti-cancer properties, being natural anti-oxidant.
This effect might be more significant, regarding ovarian cancer and cancer of intestines. Ginger is considered relieving chemotherapy disorders.
Ginger opposes diabetes
It helps kidneys in their normal functioning.
Decreases stroke and heart attack probability
Ginger balances the blood pressure and keeps it within the norm. It prevents blood clots and narrowing the arteries.
Anti-flu effect
Ginger will relief you when you catch a cold, angina or flu. It stimulates saliva production, thus clearing the bronchial tubes.
Less stomach pain and nausea
Ginger neutralizes stomach acid and facilitates digestion.
Relieves a headache
Ginger has anti-inflammatory properties and fights a chronic problem and migraine attacks.
Reduces pain in joints and muscles
If you have arthritis, ginger could help you with inflammation process. You could both drink ginger juice and apply on the affected area. For the latter, mix ginger powder or chopped fresh ginger root with hot water, until you get a thick mixture. Apply it on the problem zone and leave it for an hour.
Prevents overweight
This is maybe the most famous property of ginger. A lot of people associate ginger with burning fat and stimulating metabolism.
OK, it is time to go to turn the next chapter today! By that time I am sure I have raised your curiosity towards ginger, and now you are eager to understand how to utilize these numerous benefits!
8 Recipes how to use ginger root
Let's start with three methods that will help you lose weight.
Recipe #1
Mix 3 teaspoons peeled and chopped ginger root with 27 fl oz (800 ml) cold water. Boil the mixture and add 1/4 teaspoon cinnamon. Leave it for 15-20 minutes, and you have a quick and easy recipe!
Recipe #2
Mix 1.7 oz (50 gr) peeled and chopped ginger root with one garlic clove. Pour them with 34 fl oz (1000 ml) boiling water. Leave the mixture for 20 minutes. Filter the liquid and drink it through the day in small quantities.
Recipe #3
Mix 1.7 oz (50 gr) peeled and chopped ginger root with 34 fl oz (1000 ml) cold water. Boil the mixture and add 1 or 2 teaspoons honey.
You can also add half a lemon for better taste. Filter the liquid and drink it through the day in small quantities.
Recipe #4
Ginger can help our hair, as well! For the purpose, you have to blend it with essential oils.
Mix 1 teaspoon peeled and chopped ginger root with 1.7 fl oz (50 ml) sesame oil. Apply on the hair and massage for a few minutes.
Wait for 15 minutes and wash with shampoo. Repeat the mask once a week for shiny hair.
Recipe #5
It is more concentrated and aims anti-cancer effect
Grind 2 big ginger roots, and mix them with 17 oz (500 gr) honey. Eat 1 teaspoon of the mixture, 4 times a day.
Recipe #6
It is appropriate for cold or flu treatment.
Mix minimal quantity (on the top of a teaspoon) of ginger root powder, curcuma (turmeric) and hot pepper. Pour with 6.7 fl oz (200 ml) milk, and boil for 2 minutes. Add 1 teaspoon honey and cool down. You could prepare the recipe 3 times a day.
Recipe #7
Use it in case of stomach disorders.
Mix 1 teaspoon ginger powder with 1 teaspoоn nutmeg. Pour with 3.4 fl oz (100 ml) water and drink the mixture.
Recipe #8
Apply it if you have issues with kidneys.
Mix 1 teaspoon ginger powder with 1 tablespoоn fresh onion juice. Consume 1/2 teaspoon of this mixture 4 times a day.
WATCH this short video to learn why should you drink ginger tea:
Ginger root side effects
Well, the good news is we cannot report any severe side effects. According to Webmd.com:
Ginger is LIKELY SAFE when taken by mouth appropriately. Some people can have mild side effects including heartburn, diarrhea, and general stomach discomfort. Some women have reported increased menstrual bleeding while taking ginger.
Ginger is POSSIBLY SAFE when it is applied to the skin appropriately, short-term. It might irritate the skin for some people.
Conclusion
I hope you will agree with me that it is pointless to avoid ginger root, as it has significant properties and many benefits, with no severe downsides!
Get ginger root from the store and start experimenting with some recipes, shared here. Don't wait to feel some discomfort, to use ginger. It can be a fantastic solution to keep you fit and prevent you from potential health issues!
I would love to hear from you! Do you (plan to) use ginger and what would be your approach? Leave me a comment, and I will answer you!
Be "ginger," be happy:)
Valeria