Hi, there!
Have you ever been to Castile? It is a historical region in the heart of the beautiful country of Spain. In fact, Madrid has traditionally been considered Castilian, as well!
But even if you haven't been there yet, you can quickly get something closely connected and traditional to that region! Today I will show you 5 recipes how to make castile soap at home. But first, let's see
What is castile soap, and why it is so popular?
Homemade castile soap has only one core ingredient – olive oil. Why? Because Spain produces about half of global olive oil production!
Namely because "olive" and "Spain" are so connected, and Castile is the historical heart of Spain, in the modern times olive oil soap has become popular as "castile" soap.
Now you know the etymology of this product:)
Why is it so popular? The answer is simple! Needless to say how valuable to our skin olive oil is!
In the modern times, the soap making arts has incredibly developed. Nowadays people know much more about blends and combinations of ingredients.
It is inevitable that different versions and enhancements of traditional recipes appear. They lead to paramount skin and hair treatment.
Today I will show you both: a classic castile soap recipe and a few favorite modern versions, with different proportions of palm and cocoa oil added.
Before you start with making soap manipulations, you will want to assure the appropriate equipment.
Preparation for start
What you will need beforehand is as follows:
Stainless steel pot – here you will "cook" the soap;
Whisk, or even better a hand blender – you will have to stir the mixture;
Rubber gloves – as you will work with lye, you need to be on the safe side. In case, you are more precautious, you may wear a mask to cover your mouth and goggles to protect your eyes.
Soap molds – here you will pour the mixture and wait for the soap to harden and get ready. Any plastic or metal containers you have at home will do the job. Make sure you will not go to use them for food purposes in the future.
OK. Let's assume you've got yourself covered. Here we come to the recipe's part.
Classic castile soap recipe
Ingredients:
50 fl oz (1.5 l) olive oil
7 oz (200 gr) lye (caustic soda)
16 fl oz (500 ml) cold water
Pour the water into the stainless steel pot. Add the lye and stir well. The mixture should be cool (around 95 degrees Fahrenheit/35 degrees Celsius), so give it half an hour or so to cool down.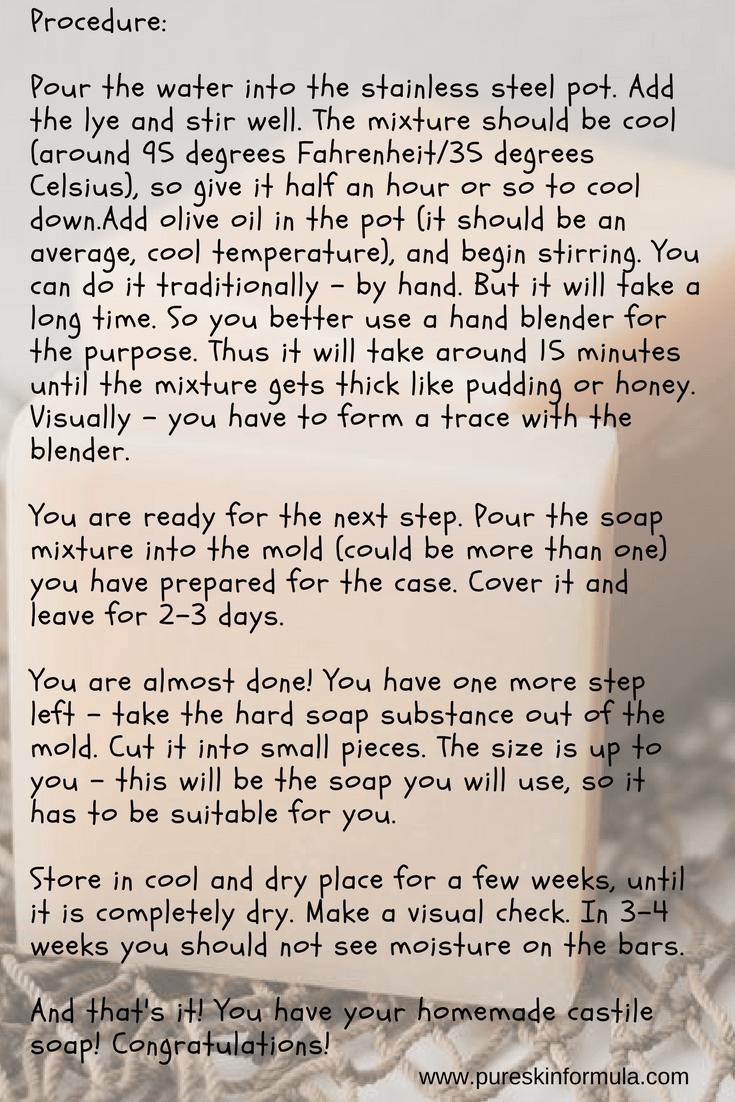 Add olive oil in the pot (it should be an average, cool temperature), and begin stirring. You can do it traditionally – by hand. But it will take a long time.
So you better use a hand blender for the purpose. Thus, it will take around 15 minutes, until the mixture gets thick like pudding or honey.
Visually – you have to form a trace with the blender.
You are ready for the next step. Pour the soap mixture into the mold (could be more than one) you have prepared for the case. Cover it and leave for 2-3 days.
You are almost done! You have one more step left – take the hard soap substance out of the mold. Cut it into small pieces.
The size is up to you – this will be the soap you will use, so it has to be suitable for you.
Store in cool and dry place for a few weeks, until it is completely dry. Make a visual check. In 3-4 weeks you should not see moisture on the bars.
And that's it! You have your homemade castile soap! Congratulations!
Now let's go through the enriched modern recipe options.
Modern castile soap recipes
Why would you want to do changes in the recipe? Because typically the classic version doesn't lather too much. That is why a popular option among DYIers is to add palm oil and coconut oil in different proportions. Find them below:
Option #1
Ingredients:
40 oz. (1.2l) olive oil
5 oz. (150 ml) palm oil
5 oz. (150 ml) coconut oil
16 oz. (470 ml) water
7 oz. (200 gr) lye
Option #2
Ingredients:
30 oz. (900 ml) olive oil
10 oz. (300 ml) palm oil
10 oz. (300 ml) coconut oil
16 oz. (500 ml) water
7 oz. (200 gr) lye
Option #3
Ingredients:
30 oz. (900 ml) olive oil
5 oz. (150 ml) palm oil
10 oz. (300 ml) coconut oil
5 oz. (150 ml) canola oil
16 oz. (500 ml) water
7 oz. (200 gr) lye
Option #4
Ingredients:
40 oz. (1.2 l) olive oil
10 oz. (300 ml) coconut oil
16 oz. (470 gr) water
7 oz. (200 gr) lye
The soap making process is the same as the classic method. The only difference is you must add not only olive oil in the pot but coconut oil, palm oil or canola oil (depending on the recipe used), as well.
Make sure all used oils are liquid before the procedure.
WATCH this short video guide:
Conclusion
Now you know what castile soap is and 5 recipes how to make castile soap at home. Experiment to see which one suits you best regarding lathering, aroma, etc. If you want, you may add a small amount (1-2 fl oz)of fragrances or essential oils.
Homemade natural cosmetics has its charm. Of course, you can always jump to the next level and find proven and enriched natural solutions for your skin care and hair care.
Irrespective what methods you use, TAKE ACTION, turn natural and be responsible for your health and beauty!
I would love to hear from you! Do you (plan) making a homemade castile soap? Leave me a comment, and I will answer you!
To your successful castile soapmaking,
Valeria