Hi there,
On one of my previous posts, I have revealed to you is shea butter good for your skin. I've shared with you three easy shea butter DIY recipes to protect your body from the inevitable influence of the time.
But that's not all that you could squeeze out from shea butter benefits.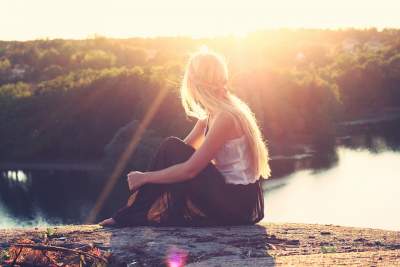 Today's goal will be to uncover how to use shea butter for hair growth!
You will learn what are the reasons to include this ingredient in your hair care list of solutions are.
Last, but not least – I will share with you two shea butter recipes for your hair, which will boost its growth.
Are you ready?
Why shea butter for your hair?
Because it's full of unique components that will make your hair feel pure and healthy. Let's see some of them:
Stearic acid will clean the strands, helping to remove sweat, dirt, and excess sebum from the hair and skin;
Oleic acid is monounsaturated omega-9 fatty acid, which reduces the bad (LDL) cholesterol, and increases the good (HDL) one. It also balances the blood pressure. Oleic acid is a shield, protecting your cells from free radicals in a better way than omega 3 and omega 6 fatty acids;
Palmitic acid is a cleansing agent, but it also plays a role as a natural emollient, moisturizing, softening, and soothing your hair.
To wrap up the topic, I will mention vitamin E, which plays a vital role in improving hair health and promoting hair growth.
5 Shea butter benefits for hair
1. You can easily apply shea butter on your hair. It is hard in its natural state but melts at body temperature. Right away you take a bit in your hands, it will turn into a consistency that you could apply on your hair.
2. Shea butter recreates your strands from roots to tops. It is especially useful in treating and preventing split ends.
3. Shea butter is a great hair moisturizer. It recreates damaged hair, inclusively when you have excessively used hair dye or devices like hair straighteners and hair dryers.
4. Shea butter is a prosperous UV sunlight protector. It as a natural barrier against harmful penetration to your hair, so you can make your summer hair treatment with shea butter. It coats the strands and does not allow the sun, wind, and water to harm the scalp and the hair follicles.
5. It has anti-bacterial and anti-inflammatory properties, so it can protect your scalp and hair from irritation and different conditions, thus helping for hair growth.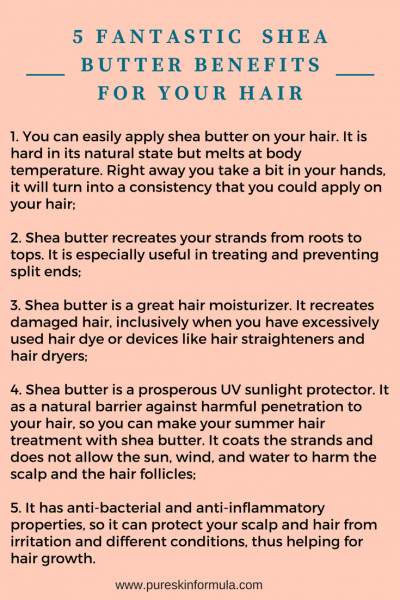 How to use shea butter for hair growth?
Okay, what can you do to get an advantage of shea butter? You can use it alone or as an ingredient in versatile hair care formulas.
I would suggest that you explore quality natural cosmetic and sanitary products on the market, as they combine in the best possible way the advantages of different natural substances – olive oil, jojoba oil, avocado oil, and sesame oil, to name a few.
There are fantastic hair masks for damaged and healthy hair out there, and you have to find them, test them, chose the best working for you, and maintain:)
Now I will share with you a couple of quick homemade solutions how to mix shea butter, with a few other natural ingredients.
Recipe # 1
You will need 100 gr (3,4 oz) shea butter, 50 ml (1,7 fl oz) almond oil, 50 ml (1,7 fl oz) castor oil, 8 drops of peppermint essential oil.
First, melt the shea butter. You can do it by heating a bowl of water placing the jar of shea butter on top. In a few minutes, you will have your butter in a liquid state.
Add the castor, almond, and peppermint oils. Blend all ingredients until reaching a homogeneous substance. Place the mixture for a few hours in the fridge, and whip it.
This is a way how to make shea butter cream (with additional ingredients, to improve the performance). Place the cream in a glass jar with a lid, and store it in a cool and dry place.
Wet your hair and massage it from roots to tops of the strands for a few minutes. Place a plastic cap over, and then a towel over for additional heat. Leave it for 20 minutes, and wash with shampoo.
You can repeat the mask twice a week until you feel an improvement in your hair.
Recipe # 2
This one is even easier than the previous mask.
You will need 100 gr (3,4 oz) shea butter, 100 ml (3,4 fl oz) coconut oil, 50 ml (1,7 fl oz) olive oil.
Melt the shea butter and blend the three ingredients until you reach a homogeneous creamy substance.
Then the next steps are the same as the ones in recipe #1.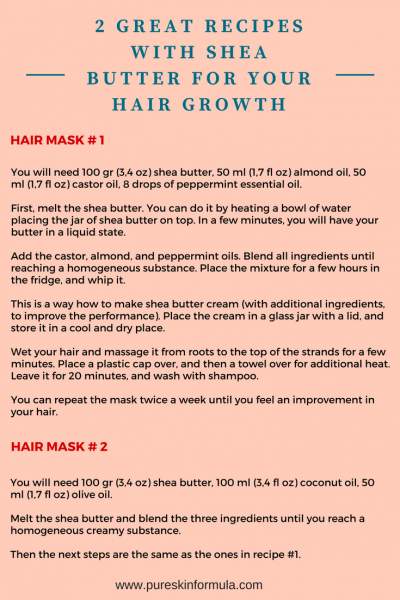 To wrap it up
Now you have the knowledge why is shea butter so good for your hair and how to use it for your hair maintenance!
If you prefer professional solutions, there are a lot of natural cosmetic products on the market with shea butter and other potent ingredients that you can explore.
Whatever approach you choose, just do it and don't leave your hair without care. We shouldn't miss the opportunities nature reveals us!
I would love to hear from you! Do you (plan to) use shea butter? Leave me a comment, and I will answer you!
Take action and take care!
Valeria